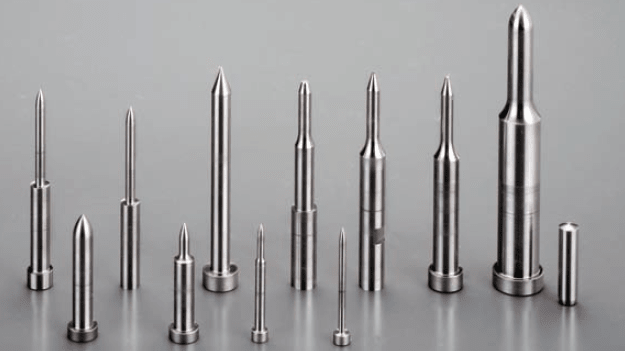 Specification:

| | |
| --- | --- |
| Material | SKH Series, HSS etc. |
| Shaping Mode | Punching mold |
| Precision | +/-0.002mm |
| Roundess | Within 0.0015mm |
| Concentricity | +/-o.oo2mm |
| Straightness | Within 0.002mm |
| Surface Roughness | Ra0.2 |
| Manufacture Size | From 0.1mm to 60000mm |
| Surface Treatment | TiCN, Tin, Aitain, Ticrn, Nitrding, Black Oxygened, Black Coating etc. |
| Hardness | HRC20-94 |
| Standard | GB, JIS, DIN, AISI International industrial standard |
| MOQ | 1pc |
| Lead time | 3days-30days |
| Shipment | DHL, TNT, Fedex, UPS, etc. |
SKH Series
SKH 51 and SKD11 are very often used as the COMMON steel materials to produce mould spare parts.
There is some comparison for the two types of materials, customer can check and decide which materials is better or more proper .
SKH 51-M2-HSS-1.3343
1. SKH51(W6Mo5Cr4V2)has good heating hardness and toughness, and its surface hardness could reach to 59~61HRC after hardening process.
2. SKH 51 is one kind of high speed steel with molybdenum and low tungsten, and its cost is just second to W18Cr4V .It is a widely used high speed steel suitable for manufacturing drills and taps, threading die, ejector sleeves, mills, gear cutting tools, cold molds etc.
3. Property: SKH51 is one kind of high speed steel by Japanese JIS standard, widely used for its cost performance. The carbide in this steel is equally distributed and fine. It is of high toughness, good thermoplastic, excellent abrasive resistance.
4. Hardness:59-61HRC Flexural Strength: 4650~4690Mpa Compression strength:3360~3390 Mpa Tenacity: 38J/cm2
Evaluation: SKH51 is one kind of common high speed steel with the best tenacity in the high speed steel.
SKD 11-D3-DC11-Cr12Mo1V-X165CrM0v12
SKD11 is one kind of tool steel, and its hardness could reach HRC 56~60 after quenching and tempering process. It is of high abrasive resistance, which is perfect to make punch pins with less production load, like punch pins with diameter more than 4.
Hardness: 56-60HRC
Flexural Strength:3360~3510Mpa
Compression strength:3320~3580 Mpa
Tenacity: 31J/cm2
Application: Heavy blanking die, cold compressing die, stretching die, thread rolling die, cold heading die, clay die, etc.
Note:
Tenacity: Force of the material's resistance to impact load without breaking.
Higher tenacity, less danger to break, and generally speaking, the impact tenacity is used to measure the tendency of brittle failure.